I am joining in with a Quilt Along- not only taking part in it but I will also be designing a block for it. Excitement!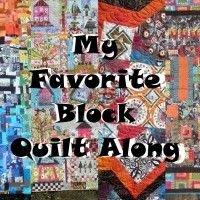 It is called 'My Favourite Block Quilt-Along" and the idea is that you can join in and make your own blocks, with a different block designer each time. It is ideal for using up fabric scraps- go to Persimon Dreams website who is the host for this, and have a look at some of the quilts made last year.
It's also a great way to practise different block designs and techniques, and when you are making one block at a time, before you know it you have enough for a quilt. You don't even have to do every block if you don't want to, or you may decide to do multiples of a copy that you really like.
Each block will be given in two sizes- either 12″ finished or 6″ finished. Here is a little hint to what I will be giving: it involves lots of strips- (or maybe not!)


Below is the list of blocks and designers- it starts next Tuesday January 15th and I'll be giving mine on February 26th. There will be a Flickr group where you can post photos online of your blocks as you make them and look at how others have created their own.
In this blog's sidebar I have a 'button' that you can click on to go straight to the home of the Quilt Along.
My Favorite Block Quilt Along
Below is the schedule of blocks and designers for the 'My Favorite Block Quilt Along.'
Block 1: Tuesday, January 15th – Diane from Lapacek's Orchard with a Log Cabin Block
Block 2: Thursday, January 17th – Amy from Amy's Creative Side
Block 3: Tuesday, January 29th – I'm A Ginger Monkey with the Churn Dash Block
Block 4: Thursday, January 31st – Pamela of PamelaQuilts
Block 5: Tuesday, February 12th – Bea from Bea Quilter with an Owl Block
Block 6: Thursday, February 14th – Pam of For Quilts Sake with a Heart Block
Block 7: Tuesday, February 26th – Karen from Little Birdie Quilting with a Leaf block
Block 8: Thursday, February 28th – Shanna of Fiber of All Sorts
Block 9: Tuesday, March 12th – Kim of Persimon Dreams
Block 10: Thursday, March 14th – Shannon of Fabrics N Quilts with an original block
Block 11: Tuesday, March 26th – Mishka of Quilting Gallery with the Quartered Star
Block 12: Thursday, March 28th – Jane of Quilt Jane with an original block
Block 13: Tuesday, April 2nd – Shelly of Prairie Moon Quilts with Missouri Star Block
Block 14: Thursday, April 4th – Soma of Whims and Fancies
Block 15: Tuesday, April 9th – Kym of FabricFascination
Block 16: Thursday, April 11th – Dawn of Spring Water Designs
Block 17: Tuesday, April 16th – Laurie
Block 18: Thursday, April 18th – Sara of Army Quilting with a Yankee Puzzle Block
Block 19: Tuesday, April 23rd – Pat Sloan, The Voice of Quilting with an original applique block
Block 20: Thursday, April 25th – Melissa of Sew Bittersweet Designs